IT H2O Blasting - for water blasting and building maintenance.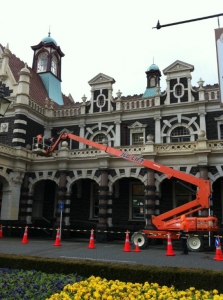 IT H2O Blasting is part of an independent, family run business, started by Ian Thomas, a Dunedin based tradesmen with over twenty years experience in plumbing, heating, drainage, water blasting and building maintenance.
Ian started from the bottom as an apprentice, and has never been out of work since. His high standards have seen him represent a number of multinational companies on everything from large scale commercial contracts, to individual domestic projects. He originally established IT Plumbing and Heating Ltd in 2009.
When you chose to work with us, you choose to work with boutique company. We have grand designs on our standards, not the size of our firm. Our work ethic is reflected in our clean uniforms, vehicles and considerate staff. We offer a highly personal service, from a small hardworking team, who care about your investments. If your needs are on a large scale, we are agile enough to tailor together an expert team of additional tradespeople, whose work we are confident to stake our reputation on and proud to personally guarantee.
All our staff are fully trained, qualified and certified. Our team are trained to work at height.
Ian Thomas - Director
Ian is the owner and director of IT Plumbing and Heating. With over 20 years trade experience, Ian enjoys problem solving and the challenge of making something work that may seem too hard.

Ian has an addiction with Trade Me, always wheeling and dealing - in fact he has been banned on several occasions by his lovely wife, Casey.

Gavin Wilson - H2O Technician
Gavin has lived in the Dunedin area for over fifty years, currently living in Mosgiel. Gavin is our H2O technician, who loves water blasting, but when he's a home you'll most likely find him tinkering in the garden.